Africa's No 1 private University, Covenant, has once again underlined her preeminence in Nigeria's tertiary education by emerging as the best Nigerian institution in the 2021 Times Higher Education (THE) Impact Rankings released on Wednesday, April 21, 2021.
Covenant maintained her 2020 ranking of 401 – 600 to lead other Nigerian institutions in the 2021 rankings. Other Nigerian universities in the ranking include the University of Ibadan, which led the pool in 2020 courtesy of her 201 – 300 ranking, but is now ranked 601 – 800 after Covenant.
The University of Lagos, also ranked 601 – 800; Edo State University, Iyamho, 801 – 1000; and the Lagos State University, 801 – 1000, made up the five institutions in Nigeria in the 2021 Impact Rankings.
Interestingly, Covenant was ranked in all the 17 categories of the SDGs, placing 1st in most of them among Nigerian institutions. Her best ranking in the goals came from Affordable and Clean Energy (Goal 7) and Climate Action (Goal 13), ranked 101 – 200 in both categories.
Covenant was ranked 301 – 400 in No Poverty (Goal 1), Zero Hunger (Goal 2), Clean Water and Sanitation (Goal 6), Industry Investment and Infrastructure (Goal 9), Responsible Consumption and Production (Goal 12), and Life on Land (Goal 15). The University was ranked 301+ in Life Below Water (Goal 14).
In other categories of the SDGs, Covenant was ranked 401 – 600 in Gender Equality (Goal 5), Decent Work and Growth (Goal 8), Sustainable Cities and Communities (Goal 11), Peace, Justice and Strong Institutions (Goal 16), and Partnerships for the Goals (Goal 17).
The Impact Rankings are the only global performance tables that assess universities impact against the United Nations' Sustainable Development Goals (SDGs). According to THE, carefully calibrated indicators were used to provide comprehensive and balanced comparison across four broad areas: research, stewardship, outreach and teaching.
The 2021 Impact Rankings, featuring 1,115 top universities from 94 countries in the overall rankings, was the third edition.
The overall ranking was led by a British institution – the University of Manchester - for the first time. Three Australian institutions completed the top four, which were the University of Sydney, RMIT University and La Trobe University.
News of Covenant's new prime position in the Impact Rankings came barely five days after she was adjudged "Africa's Best World Class Private University of the Decade in Quality Education" at the 7th edition of the African Quality Achievement Award 2021.
Other African institutions in the ranking include the University of Johannesburg in South Africa, Aswan University and Cairo University, both of Egypt, Ibn Tofail University of Morocco, the University of Ghana, and Kenyatta University in Kenya.
To God alone be all the glory!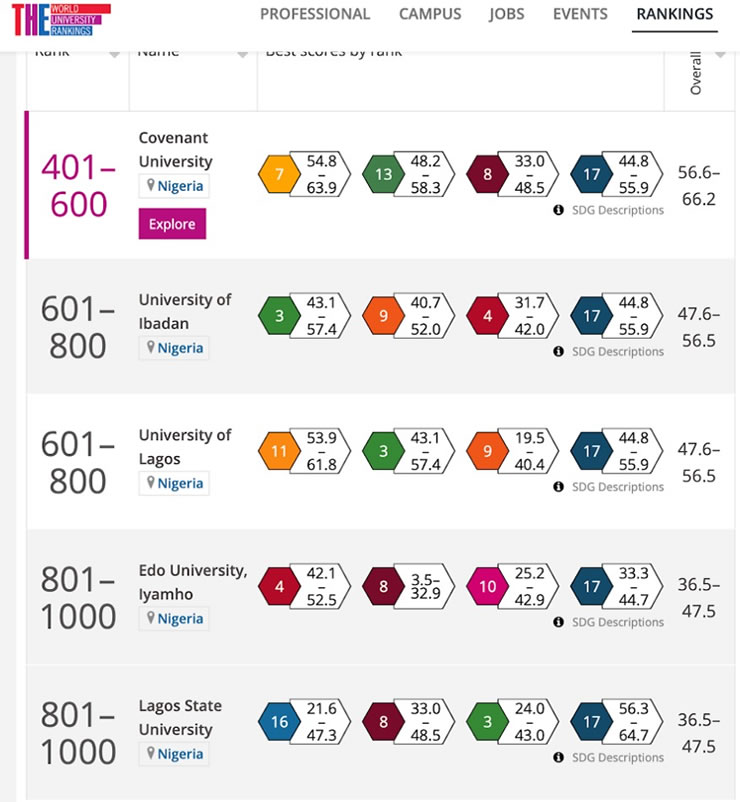 Table showing how Covenant and other Nigerian institutions appear in the 2021 THE SDGs Impact Rankings